Canadian Telecom Summit - June 7-8-9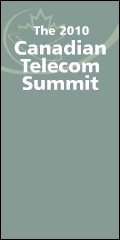 I can't believe it's been a year already.
The CTS is the only conference that I attend religiously. It's sort of a telco geek fest, but with a business slant, which is why it commands such an audience.
I've lucked into a free ticket this year, and am going on Tuesday. MTS, Videotron and the Regulatory Blockbuster. Yes, hearing smart folks talk about CRTC Regulations as they pertain to the telecommunications industry really is neat, if you're into that sort of thing [I am].
I can't wait!!
:-)